Cowl Tag Decoding – 1958 through 1964 Chevrolet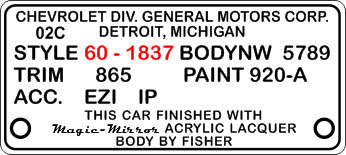 The links below will lead you to the appropriate page to decode each part of your cowl tag.
TRIM (interior) decoder
PAINT decoder
ACC (accessories) decoder
Date decoder
Note: This cowl, or trim tag style only applies to Chevrolet cars produced in the USA.
Keywords: decoded, decipher, body tag, trim tag.